Motivating remote employees
Motivating remote employees
Last Updated: March 30, 2022
1.2K Views
3 Min Read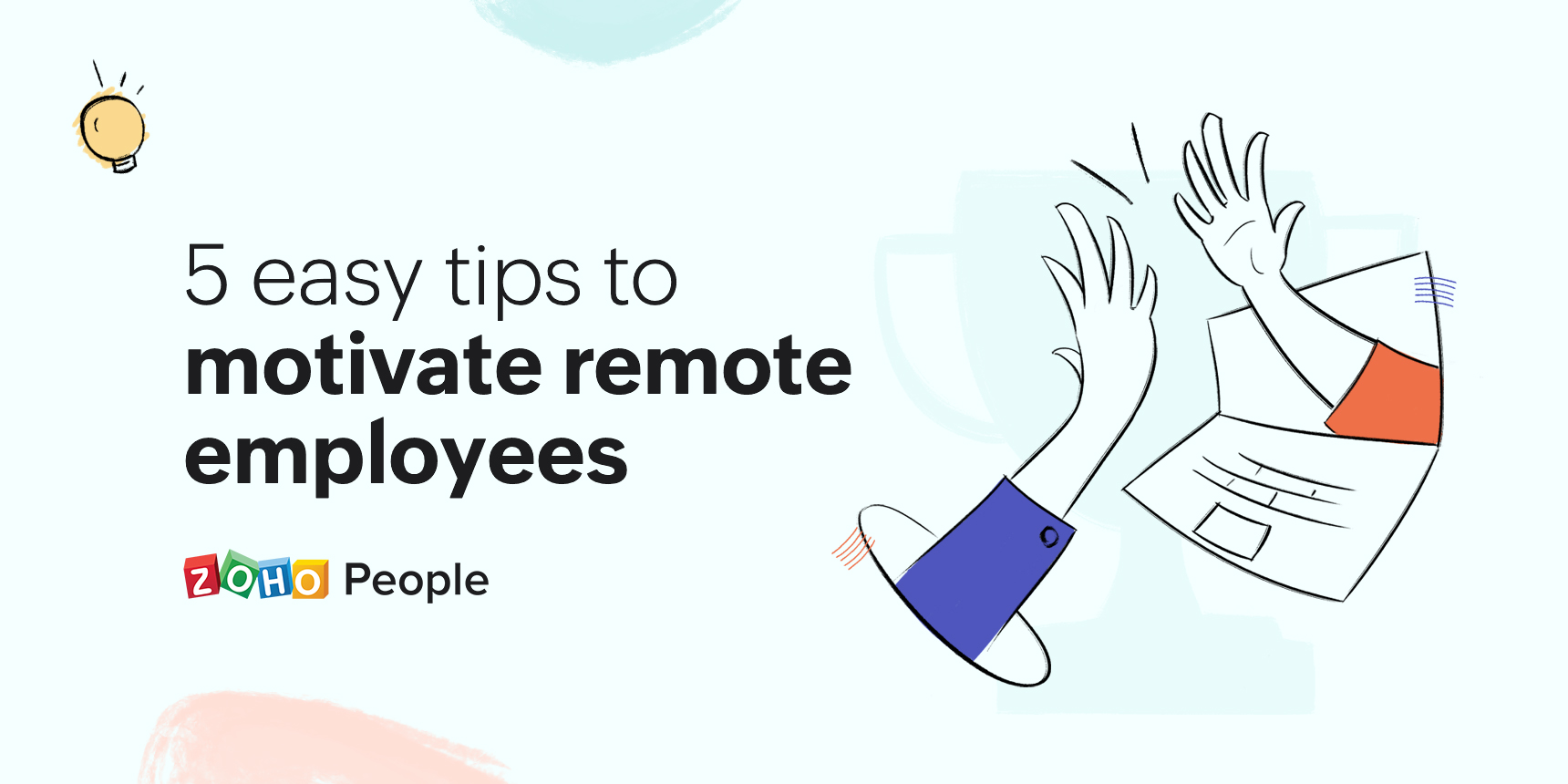 Imagine you have a team of five employees, each working remotely from different locations and time zones. They only interact with one another to discuss and complete work-related projects, and other than their own responsibilities, they don't know what is happening at your organization. They're so separated from the rest of the company that there's no way for them to know if their work is making an impact. Over time, lack of communication and face-to-face interaction causes them to lose motivation.
In a remote work environment, it's not uncommon for employees to feel disconnected. Here are five tips to keep your remote employees satisfied, motivated, and engaged:
1. Foster a sense of purpose
The work itself plays a key role in employee motivation levels. However, when working remotely, they may not have enough interaction with their team or manager, feel drowned in a sea of mundane tasks, and miss out on seeing the true impact of their work. That's why it's incredibly important to set periodic goals for remote employees and recognize them for their successes. Encourage managers to divide meaningful work equally among team members so that every employee maintains a strong sense of purpose. Before assigning a project, ask managers to clearly explain how it would benefit both your organization and its clients.
2. Make communication a top priority
Streamlined communication can also help improve employee motivation. In remote work environments, communication often suffers without the proper attention. Remote employees may begin to feel lonely and struggle to focus on their work. We recommend sharing consistent feedback, holding regular meetings, and encouraging team interactions. You can also establish different communication channels so employees can discuss relevant topics. To learn more, check out our blog post on how to strengthen remote communication.
3. Enhance your support system
When employees feel valued, their productivity and motivation levels increase. We suggest evaluating your existing support system and introducing elements that will be useful to your remote employees. For instance, you could offer helpful work-from-home tools and technology, incentives, or food delivery services. You can also help remote employees feel supported by offering mentorship and professional development opportunities.
4. Create a virtual wall of fame
Keep your employees updated on one another's successes with a virtual wall of fame. For example, you could use your employee intranet to feature employee accomplishments. You may choose to attach a photo of a particular employee, detail their achievements, and share how they reached their goal. These success stories could spark creativity for other remote employees.
5. Encourage weekly catch-ups
Casual team meetings can alleviate stress and keep your remote employees on the same page. During these catch-ups, employees can share important updates and achievements, come up with solutions for current challenges, share action plans for the upcoming week, and provide feedback. They can even use these meetings to discuss common interests and other light topics.
Motivating remote employees
While it may require a bit more time and attention, it's worth every manager's while keep remote employees engaged and in the loop. By taking the right steps, you can ensure your remote workforce stays aware of the value they add to your organization and ultimately improve their overall working experience.
Also read: 6 tips for creating an engaging virtual onboarding experience
Tarika

Content Specialist at Zoho People
Leave a Reply
Your email address will not be published. Required fields are marked