Drafting a hybrid work policy: 5 things to consider
Drafting a hybrid work policy: 5 things to consider
Last Updated: September 4, 2023
135 Views
3 Min Read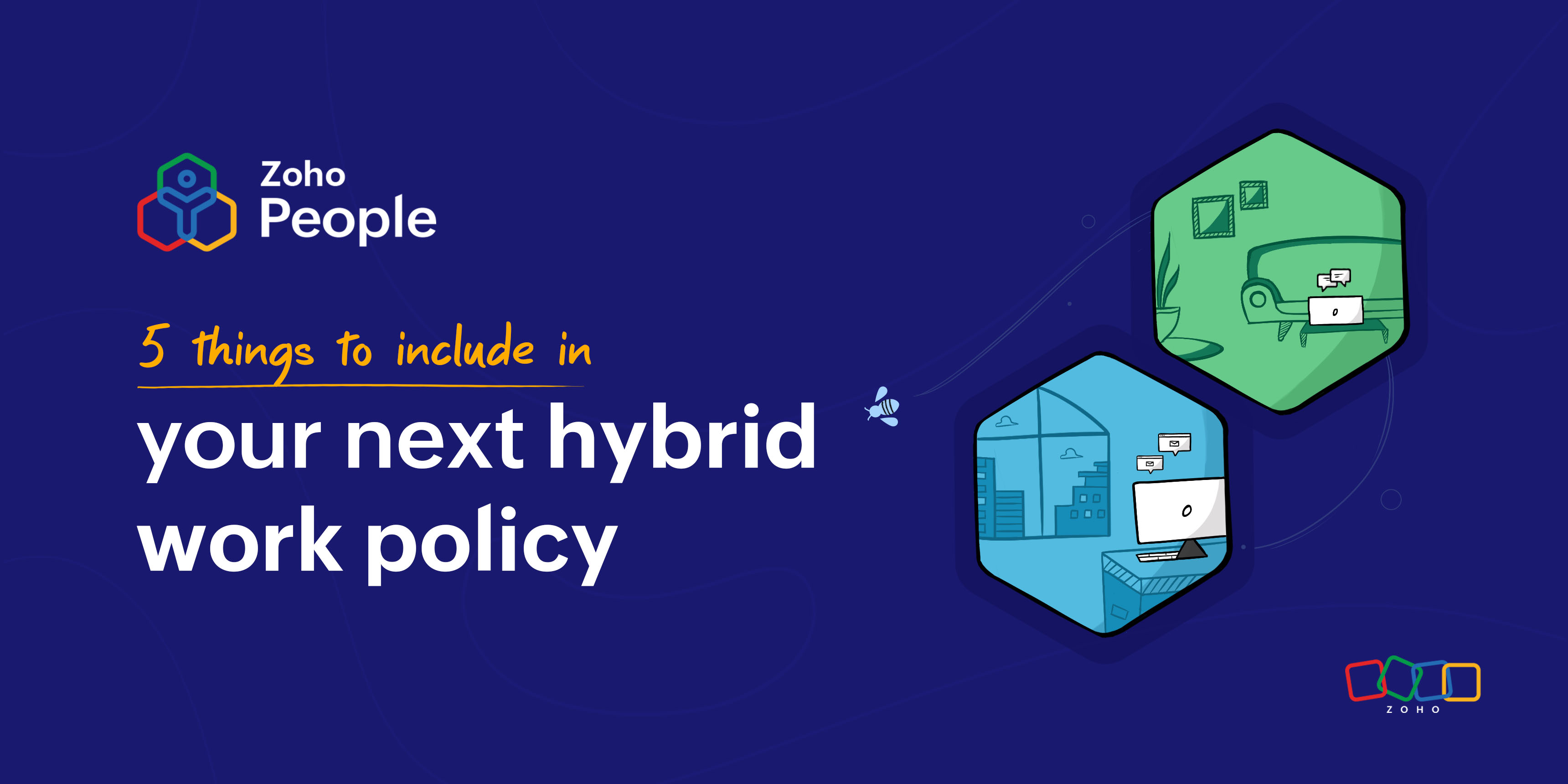 Gone are the days when employees had to be present physically at the workplace. Many organizations understand that employees can be both flexible in their schedules and productive, which has popularized the hybrid workplace model.
A hybrid workplace model is a win-win for both employees and organizations. Employees have the freedom to decide when and where they work, while management can still ask them to come into the office on selected days for collaborative meetings. A comprehensive hybrid work policy is essential to set clear expectations for your employees. Here are five things every hybrid work policy should include:
1. Reason
As you start your hybrid workplace policy, be sure to make your employees aware of why you are adopting it in the first place. This will help them better adapt to hybrid work, making the strategy more successful. Most organizations adopt a hybrid workplace model to make work more convenient for employees and help them have greater autonomy over their work lives. When the workplace becomes comfortable for employees, they're able to focus more clearly on their work goals.
2. Eligibility
Specify the employees who are eligible to adopt the hybrid model. For instance, salespeople may need to come into the office for meetings on specific days, but managers could allow them to work from home on others. New hires often require in-office training, so they may not be eligible for hybrid work right away. Some organizations leave the ultimate choice to the managers, since they're most familiar with their team's synergy. Be sure to jot down the eligibility based on what works best for your organization.
3. Hybrid work type
Here are the common types of hybrid work you might consider:
Remote-first: Employees predominantly work remotely and come to the office for in-person interactions once a month or a quarter.
Office-first: Employees predominantly work from the office and can choose to work remotely when necessary.
At-will: Employees choose where they want to work.
Week-by-week: Employees work remotely for one week and work from office the consecutive week.
Split week: Employees work remotely for a specific number of days in a week. Usually, they work from the office for three days and work remotely for two days.
4. Availability and communication
Since the hybrid workplace model is flexible, it's essential that you set expectations around attendance and availability. This includes defining the hours your employees have to be available to take calls, attend meetings, and respond to messages. You may even let your employees follow varying work hours as long as their team members are aware of their availability.
Tip: Have a performance policy in place that encourages managers to set clear expectations for their employees and evaluate them based on their output (and not just their working hours).
When it comes to communication, asynchronous mode works best. Establish different communication channels like audio calls, video calls, email, and internal chat systems, and be sure to mention it in your hybrid workplace policy. Make sure that all the employees in your organization are easily reachable.
Also see:Tips to enhance internal communication
5. Tech tools
Your organization will need to have the right technology for hybrid work to be successful. Software for attendance, leave, performance, time tracking are required to manage your routine HR operations seamlessly. Similarly, it's essential to invest in file-sharing platforms, e-signature tools, internal chat software, and online meeting software to sustain productivity. Remember to set clear expectations around the use of these tools in your hybrid workplace policy.
Wrapping up
A hybrid workplace model, when implemented carefully, can bring a multitude of benefits to your organization. These include matching the expectations of the modern workforce and increasing productivity. We hope this post gave you a clear idea of the different aspects that you should include in your hybrid workplace policy.
Also read: What makes a hybrid workplace popular?
Tarika

Content Specialist at Zoho People
Leave a Reply
Your email address will not be published. Required fields are marked